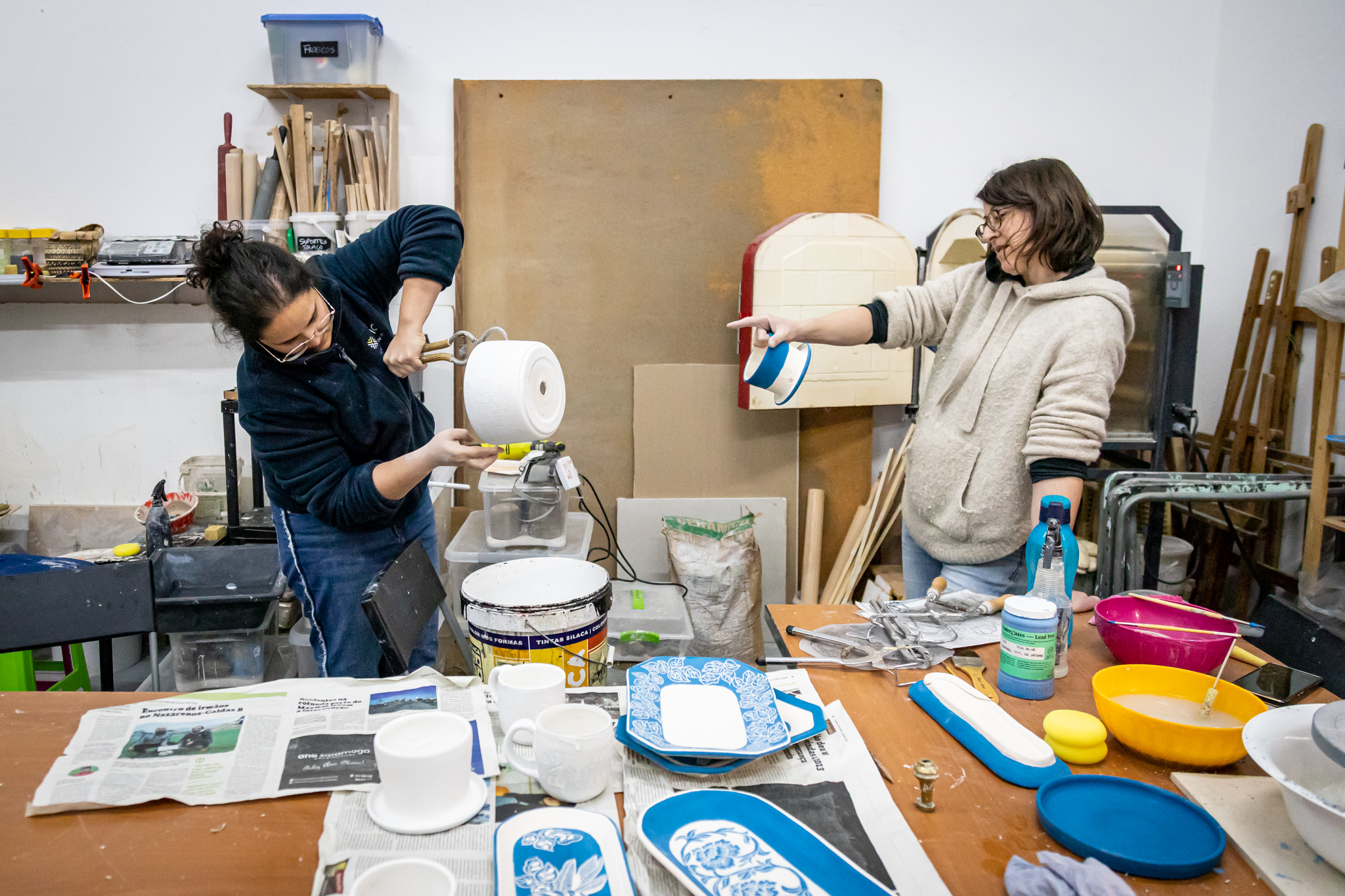 Com Fusion (with fusion) is the beginnings of a ceramics collaboration between two artists:
Mariana Sampaio
from Portugal, &
Nicole Curcio
from the United States. It began as an exchange and fusion of ideas, techniques, cultures and traditions that became an ongoing trans-Atlantic collaboration of artwork.
Mariana and Nicole take turns visiting the others home country, each time creating a new collection of work together. First in August 2022 in the US, then in Feb-March 2023 in Portugal, and hopefully Mariana will be coming back to the US in August to create a fresh, batch of work with Nicole. If you'd like to learn more about how the two artists met,
click here for the whole story.
The bigger idea is to grow Com Fusion into a community ceramics studio in Portugal. It will be a resource and safe place for an international community for ceramic artists to learn from each other, brainstorm projects, share feedback, collaborate and elevate ceramics as an artform. We'll be posting about the progress and doing some fundraising to fuel these projects as we go, but below you can see some of the work we have created in our first two collaborations.
More information about Com-Fusion Ceramics
Com Fusion (Com-Fusão) é o início de uma colaboração em cerâmica entre duas artistas:
Mariana Sampaio
de Portugal, e
Nicole Curcio
dos Estados Unidos. Começou como uma troca e fusão de ideias, técnicas, culturas e tradições que se tornaram uma colaboração transatlântica contínua de obras de arte.
Mariana e Nicole visitam o país de origem da outra, e de cada vez que o fazem criam juntas uma nova coleção de trabalhos. A primeira colaboração foi em Agosto de 2022 nos EUA, depois em fevereiro-março de 2023 em Portugal, e a mais recente em Agosto de 2023 nos Estados Unidos. Se quiser saber mais sobre como as duas artistas se conheceram,
clique aqui para ver a história completa.
A ideia maior é transformar a Com Fusion num estúdio comunitário de cerâmica em Portugal. Será um recurso e um local seguro para uma comunidade internacional onde os ceramistas aprenderão uns com os outros, debaterão projetos, partilharão feedback, colaborarão e elevarão a cerâmica como forma de arte. Vamos continuar a actualizar o progresso e arrecadando fundos para alimentar estes projetos à medida que avançamos, no link abaixo pode ver alguns dos trabalhos que criamos nas nossas duas primeiras colaborações.
Mais informações sobre Cerâmica Com-Fusion